Kaltura keeps track of all your media files and allows you to present them exactly as you wish. The solution handles the storage, management and viewing of video and media files.
Billede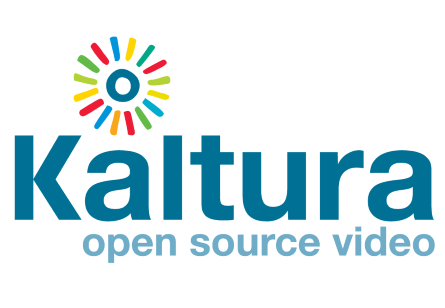 Kaltura is suitable for streaming, storing, handling and viewing large amounts of media files.
When is Kaltura used?
Streaming: Kaltura can be used for streaming auditorium lectures and events.
Recording: Kaltura is also used for recording streaming sessions from an auditorium, or for the user's own recordings via Kaltura's desktop application.
Editing: The recordings can be edited in an online editor, where content can be cut.
Display: The user can then publish content for the desired application, either a standalone video portal, an LMS or a separate website.
How is Kaltura used?
Learning Management Systems (LMS): Access a course under the LMS system and go to "My Media". New material can be established via "Add New", and existing material can be published by selecting one or more videos under My Media and "Actions"> "Publish".
Video portal: Access and log in to the organization's independent Kaltura portal, if available. Click on My Media, where the same content is presented as under My Media under LMS. Material can be created via "Add New", and existing material can be published by selecting one or more videos under My Media and "Actions"> "Publish".
Who can use Kaltura?
Distribution: Kaltura is widespread among researchers, educators, PR and communication.
Sector-specific application: Educational and research institutions in Denmark can use the Kaltura service through DeiC.
Organization License: This requires an organization license and agreement before end users can use Kaltura. After this, all users of the organization can use Kaltura on the basis of the roles and rights that the organization has set for its own users under Kaltura.
External users: It is possible to configure Kaltura so that external users can also access video material under e.g. the video portal or possibly via playlists and material embedded in other web portals.
What does it take to use Kaltura?
Material under Kaltura can be viewed via a standard web browser across a range of platforms. Simple and easy recordings can also be made via a web browser, but otherwise it is recommended to install a dedicated application, Kaltura Capture, for the purpose (Windows and Mac).
What about legal issues, security and personal data?
Access control: The institution and users handle access to the content via username and password and decide which content should be publicly available.
Data storage: Data is stored at NORDUnet's data center in Denmark.
Logging: There is logging on the access to data, and work is being done on an extended logging (transaction logging).
Encryption: Data is protected by encryption in the transmission and in storage.
Backup: Data is protected by mirroring disks, and duplicating content to 2 locations.
User rights: The local institution can support the right of access, deletion, correction and porting.
Data processor agreement: DeiC offers the following data processor agreement (link coming soon).
What does it cost to use Kaltura?
Pricing model: Kaltura is not part of the total price for connection to the Research Network, but requires separate payment.
Volume discount: The price depends on the total number of applications used in Kaltura, as well as the total number of full time students per year at the institution.
Where do I get support?
Self-help: User-friendly support pages can be found under: Learning, Knowledge, Demo.
Local support: End-user support is provided by your own organization. You can see if your institution has Kaltura here. 
System support: System support is provided by DeiC via videokonf@deic.dk and tel: + 45 3588 8202 (9.00-16.00)
Operating status: Representatives and dedicated users are encouraged to subscribe to operating and service announcements under https://serviceinfo.dk
If you want to get an agreement on the use of Kaltura:
Service manager: Thorkild Jensen, thorkild.jensen@deic.dk tel: +45 3588 8202
Legal responsible: DeiC, DTU (CVR 30 06 09 46) (data processor)
Hosting partner: NORDUnet (data sub-processor)
System Provider: Kaltura (data sub-processor)